Marin
EFT Consultation Group in Marin
Emotionally Focused Therapy for Couples
This ongoing monthly Friday morning consultation group is for licensed therapists who have attended an Externship, and or Core Skills and wish to develop their EFT skills in a small group supportive learning environment. There is also an opportunity to acquire supervision hours toward becoming an EFT Certified Therapist.
Case consultation, video review, role play and other experiential learning modalities will be used to practice the steps and stages of the EFT model, master the EFT Tango, and explore "Self of the Therapist" experiences as we sit with each other and enhance our ability to foster and heighten emotion with our couples.
Fee: $100.00 per meeting. Payments are due for all sessions regardless of attendance. Of course we hope you will attend all sessions to receive maximum benefit and to establish continuity and A.R.E. with each of your group members.
Susan Glick, Ph.D. is a Licensed Psychologist and Certified EFT Supervisor and Therapist with 22 years of experience working with couples. She adopts an integrative approach in her work with clients, drawing from her somatic background as well as the Internal Family Systems (IFS) model for working with trauma.
Barbara Adamich, LCSW is a Licensed Clinical Social Worker, Certified EFT Supervisor and Therapist,  integrating 38 years advanced training in attachment based therapy, EMDR, trauma psychology, positive psychology, life coaching, and mindfulness.
San Francisco, CA
Online
EFT Fundamentals-An Online Group
with Jamie Bachman, LCSW- Certified EFT Supervisor
If you would like to deepen your understanding of the steps, stages, and interventions of EFT, please join Jamie Bachman, LCSW- Certified EFT Supervisor who many of you met at the EFT Externship for a monthly review of the theory and practice of the skills. This two-hour monthly online group will include some teaching, exercises, and Q&A to enhance your understanding of the model and its techniques. This group is perfect for those who have completed an Externship but have not yet enrolled in a Core Skills training, though it can be a helpful adjunct to Core Skills as well. It will be held one Monday a month from 9 am-11 am. The fee is $80 per meeting. The intention of the group is educative rather than supervisory/consultation. Contact Jamie Bachman at [email protected], or 510-470-0562 for more information.
Berkeley, CA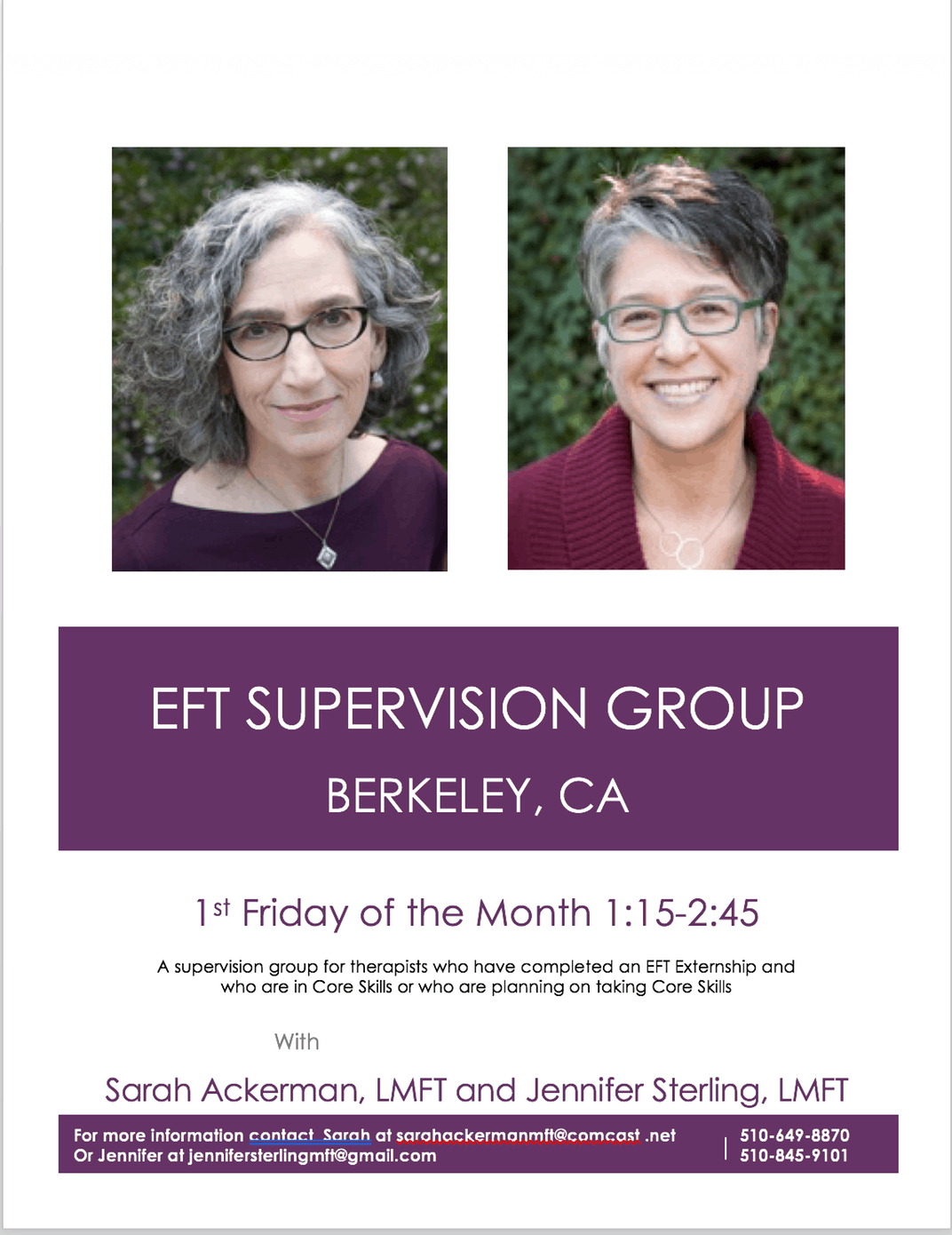 San Jose, CA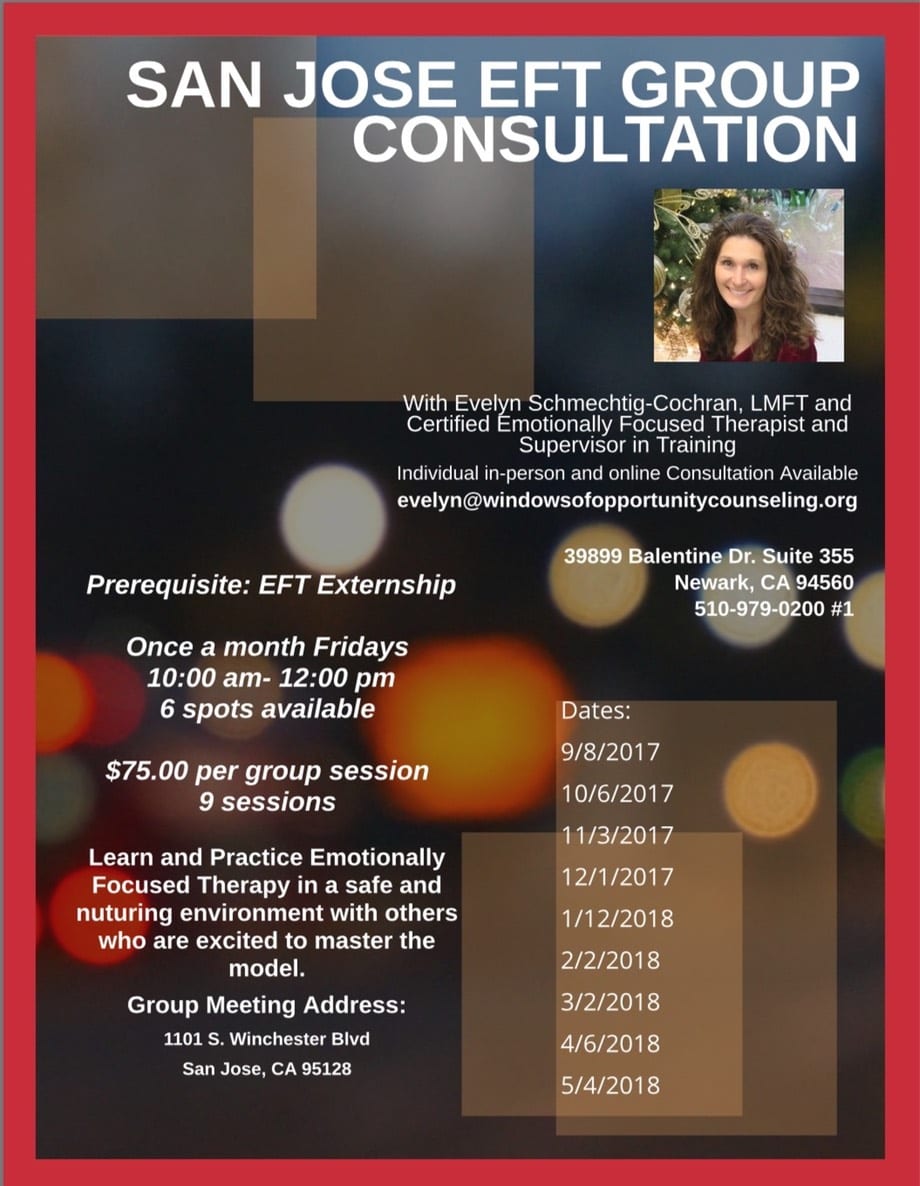 San Jose EFT Group Consultation
Facilitated by Evelyn Schmechtig-Cochran, LMFT
Certified EFT Therapist & Supervisor Candidate
Once a Month Fridays
10:00 – 12:00 pm
(Space is Limited)
To register and get more information, please contact Evelyn.
Santa Rosa, CA
EFT Experiential Training
Specializing in couples therapy is challenging, fun and creates a solid base for your therapy practice. In Sonoma County it no longer works to be a general practitioner and expect to attract couples, because educated consumers in this market now look for specialization and certification. This is especially true since the publication of Dr. Susan Johnson's bestselling book about EFT: HOLD ME TIGHT. It is notable that, of the many new couples therapy modalities, EFT is the only one which is evidence-based with empirical after-care studies validating phenomenal success rates. The only difficulty for the clinician wishing to learn EFT is that this requires a substantial commitment of time and effort, normally 4 or 5 years.
You are given the theory and application along with some beginning experiential practice in the basic training courses, EFT Externship and Core Skills. After these, the way that you actually learn to competently and confidently practice EFT with your couples, is through trial and error, in session, with regular, good supervision. This takes a long time because normal clients present so many layers of complexity that you find yourself too often lost or confused, making success hard to come by as you sort all this out. Ideally we would all be able to gain mastery in a much shorter time if we had the good fortune to work with several straightforward couples, each one incrementally more difficult, as we went through all the steps sequentially with our supervisor at our shoulder ensuring successful practice.
This training is designed to give you exactly this kind of experience. I will preview each new EFT step and stage before showing you a video of Sue Johnson or another master practitioner doing it right on. The bulk of the learning will happen in role-play with me at your side guiding you through, over and over, until you really nail it. Learning the how- to of EFT is what takes such a very long time. My EFT experiential class will shortcut this process considerably. This class can be taken before, after or concurrently with the other EFT trainings and be equally beneficial.
RICHARD DOLEMAN, MA, MFT is an EFT CERTIFIED THERAPIST and an EFT CERTIFIED SUPERVISOR. This is a Small group, to optimize learning, just three therapists. We will meet weekly in my Santa Rosa office for two hours:The group is on Thursdays 12:30 pm to 2:30 pm. This group will start in January 2018 or as soon thereafter as the group fills. Cost is $100 per meeting/person with an $1000 deposit to be applied to the last ten classes. A full fifty-week commitment is required. Call (707) 573- 8436 or email [email protected] to reserve your place in the group.
"The EFT Experiential with Richard was the best training I've ever had!! His experiential focus and supportive interactive style profoundly accelerated my learning curve and has been invaluable in my work with couples."
~Sher Winston LMFT, Certified EFT Therapist
Santa Rosa, CA
DISCLAIMER: The Supervision groups listed above are simply a list of additional resources to learn EFT, and no recommendations or guarantees are made regarding the quality of service you might expect from any of the professionals or businesses listed. Whether the listing is free or paid, no recommendations or referrals are expressed or implied, regarding the quality of services provided.